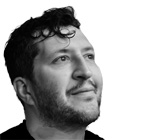 Born in London in 1971, Thomas Adès studied piano (Michael Blackmore and Paul Berkowitz), composition (Erika Fox and Robert Saxton) and percussion  at the Guildhall School of Music & Drama, and read music at King's College, Cambridge. In 1993 he made his recital début as pianist and composer at the Park Lane Group in London. Between 1993 and 1995 he was Composer in Association with the Hallé Orchestra, which resulted in These Premises Are Alarmed for the opening of the Bridgewater Hall in 1996. Asyla (1997) was a Feeney Trust commission for Sir Simon Rattle and the CBSO, who toured it together, and repeated it at Symphony Hall in August 1998 in Rattle's last concert as Music Director. Rattle subsequently programmed Asyla in his opening concert as Music Director of the Berlin Philharmonic Orchestra in September 2002.
Adès' first opera, Powder Her Face (commissioned by Almeida Opera for the Cheltenham Festival in 1995) was televised by Channel Four, and is available on a DVD as well as an EMI CD. Most of the composer's music to date has been recorded by EMI. Adès' second opera, The Tempest, was commissioned by London's Royal Opera House and was premièred there in February 2004 and revived in 2007.
In September 2005 a Violin Concerto for Anthony Marwood was premiered at the Berliner Festspiele and the BBC Proms, with the Chamber Orchestra of Europe under his baton. His second orchestral work for Simon Rattle, Tevot (2007), was commissioned by the Berlin Philharmonic and Carnegie Hall. In 2008 Adès collaborated with video artist Tal Rosner on a commission from the Los Angeles Philharmonic and London's Southbank Centre for a piano concerto with moving image ('In Seven Days'). This work was given its world premiere in April 2008 by Nicolas Hodges, the London Sinfonietta and Adès at the Royal Festival Hall, London.
Among the festivals at which he has been the featured composer are Helsinki Musica Nova (1999), Salzburg Easter Festival (2004), Radio France's Présences, Paris (2007), the Barbican's 'Traced Overhead', London (2007), New Horizons Festival, St. Petersburg, Russia (2007), Royal Stockholm Philharmonic Festival (2009), Melbourne Festival (2010); in addition Carnegie Hall, New York, appointed him to the R and B Debs Composer Chair and featured him as composer, conductor and pianist throughout the 2007/8 season.
Adès is also a renowned interpreter of a range of music as conductor and pianist. He has recorded composers including Kurtág, Janácek,
Nancarrow, Stanchinsky, Grieg, Busoni, Stravinsky, Schubert, Ruders and Berlioz, and premiered and widely performed several works by Gerald Barry. Orchestras he has conducted include City of Birmingham Symphony Orchestra, Los Angeles Philharmonic, Boston Symphony, Chamber Orchestra of Europe, Philharmonia, London Philharmonic Orchestra, Orchestre National de France, London Symphony Orchestra, Royal Stockholm Philharmonic, Hallé Orchestra, BBC, Finnish, Dutch, Danish and North German Radio Symphony Orchestras, Melbourne Symphony, Sydney Symphony and ensembles such as Birmingham Contemporary Music Group, London Sinfonietta, Ensemble Modern and the Athelas Ensemble, Copenhagen.
Adès' music has attracted numerous awards and prizes, including the Grawemeyer Award (2000) of which he is the youngest-ever recipient. He is the only composer to have won the Royal Philharmonic Prize for Large-scale composition three times.